(BBC) – At least 735 people have been arrested at anti-war protests across Russia today following the invasion of Ukraine, an independent monitor says.
Demonstrators were detained in 40 cities, according to OVD-Info, which tracks arrests at opposition rallies.
More than 330 people have been detained in Moscow, it says.
Images have emerged of Russian police detaining protesters at an anti-war protest taking place in central Moscow's Pushkinskaya Square.
An image taken by an AFP photographer at the scene shows officers detaining a man holding a placard which reads: "No to war with Ukraine! Putin to resign".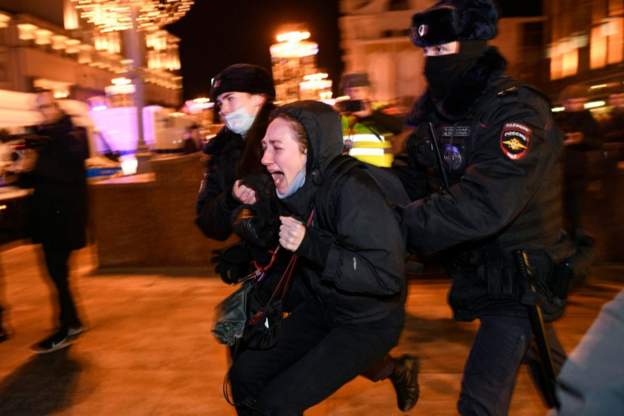 Other images show officers blocking-off the square. A Guardian reporter at the scene said on Twitter that there is a "very heavy police presence" in the area.
In the US, a pro-Ukraine rally is expected to take place outside the White House in Washington DC at 16:30 local time (21:30 GMT).