by Linda Straker
Incoming President of the Grenada Union of Teachers says the march is for social and economic justice
Public Workers Union (PWU) joined in the protest
Government has asked to defer the salary increase
Grenada (Now Grenada) – With less than 7 days before they are scheduled to receive their salaries that will not reflect the 4% increase in salary of the 2018 collective bargaining agreement, retired and current teachers took to the streets of St George in a march for justice on Tuesday, 23 March 2021.
The peaceful protest saw many teachers dressed in red shirts and displaying placards with justifications for the increase, to press for Government to resolve the matter.
"As you can see, this is an intensification of the action," said Marvin Andall, outgoing President of the Grenada Union of Teachers (GUT). "The fact is the longer the Government takes to meet its commitment, the more intense our effort will be," he added, without disclosing the planned industrial actions.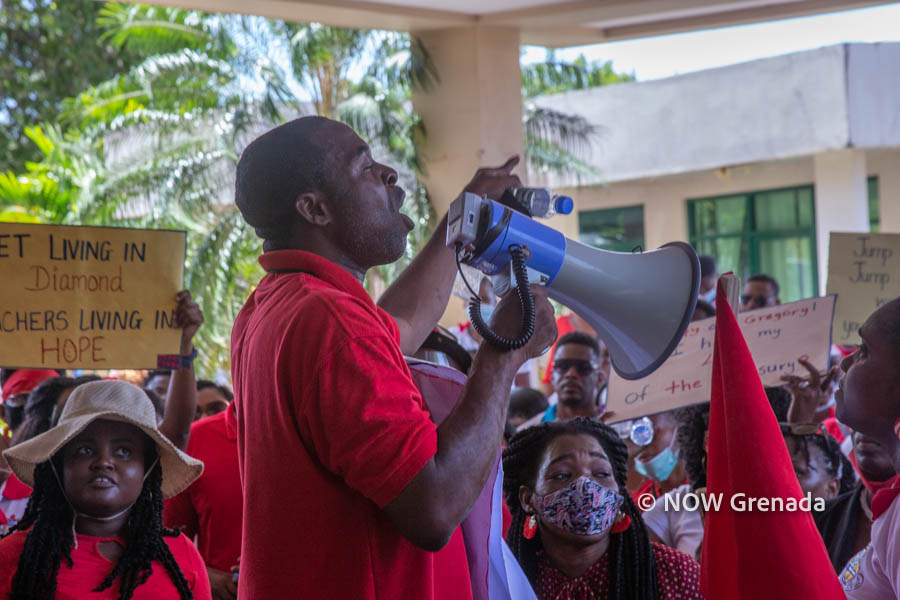 Jude Bartholomew, incoming President of the GUT, said that the activity which had hundreds of teachers leaving the classrooms is a march for social and economic justice. "It's a march for all workers, it's a march for all public workers… that is a worthy and just cause," said Bartholomew, who was elected to head the Union a few weeks ago.
The members of the Public Workers Union (PWU) who are also facing non-payment of the increase also joined in the protest, which started at the National Stadium area and proceeded to the Ministerial Complex.