Updates from BBC correspondents: Yogita Limaye, Mark Lowen, Joel Gunter and Anna Foster in Kyiv, Jonathan Beale in Donbas, Tom Bateman in Dnipro, Catherine Byaruhanga in Odesa, Dan Johnson and Toby Luckhurst in Lviv
Summary
Russia's defence ministry says the flagship vessel of its Black Sea fleet is seriously damaged
They say a fire caused ammunition on the Moskva to explode, but that it is still afloat
The crew have been evacuated and the cruiser will be towed to port, officials say
Ukraine says they hit the Moskva with two missiles and it began to sink, but this has not been confirmed
The US is sending more artillery, armoured vehicles and helicopters to Ukraine
In Mariupol, Russia says it has gained full control of the city
Kyiv's defence ministry insists Ukrainian troops are holding out
I'm inclined to believe Ukraine did strike warship – analyst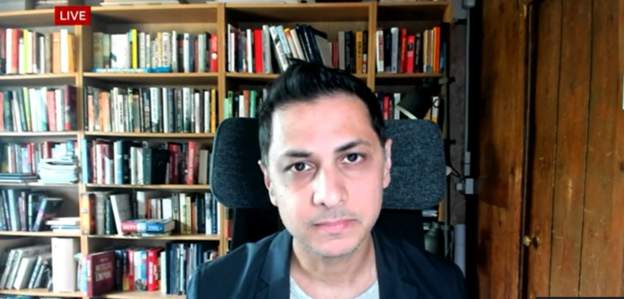 We've heard two claims about damage to the Russian warship Moskva today: Ukraine says it carried out a strike on the vessel using Neptune missiles, while Russia claims ammunition on board blew up.
Shashank Joshi, defence editor at the Economist, says it's possible that a missile struck the ship and then ammunition exploded.
"And of course, when magazines on ships explode, the results tend to be absolutely devastating for the ships concerned. This is huge amounts of explosives that can completely destroy a ship – they can certainly render it combat-ineffective for a long period.
"On balance, I'm more inclined to believe the Ukrainians did strike the ship."
He notes that Ukraine has in total hit four Russian warships so far.
Asked about the significance of the incident, Joshi explains that Moskva was providing air cover for other ships which may now be more at risk of aerial attack.
He said it also had missiles that could "strike quite far inland in Ukraine".