(BBC) – 'We need membership this year' says Zelensky
The next question is about Ukraine joining the EU.
The journalist asks if Ukraine is going to have to wait for years and also what kind of EU Ukraine wants to be a part of.
Zelensky says the dialogue has been opened about their future in the EU. He says "we need unity in this case" and that Ukraine wants it this year, to motivate themselves and especially their army.
"We need it this year. When I say this year, I mean this year – 2023," he says, addressing Michel specifically – to some laughter from the room.
Visit to London an 'important step' on road to fighter jets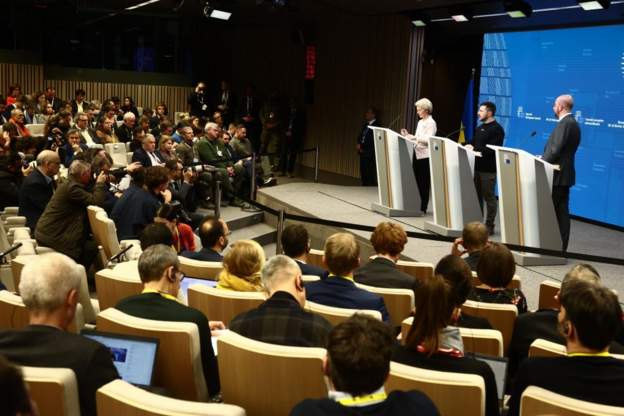 The leaders are now facing questions from the assembled media.
Zelensky is asked by a reporter about the UK's announcement that it will start providing training to Ukrainian pilots and the lack of any similar announcement by France or Germany.
"Our visit to London has achieved results and we have moved towards [decisions] concerning long-range missiles and the training of our pilots," he says.
"That is an important road to getting the fighter jets that we need."
He adds that there were "certain agreements which are not public but are positive".
"I don't want to prepare [Russia, which] constantly threatens us with new aggression," he says.
Zelensky goes on to describe his discussion with President Macron and Chancellor Scholz as a "very powerful meeting, a very important meeting".
"Talking about concrete decisions… I would not want to announce many things publicly. All I can say is we were working towards the enhancement of our capabilities," he says.
He does say that the supply of armoured equipment and tanks was discussed.
He concludes that Britain and all the countries of the European Union deserve "huge gratitude" from Ukraine for the support they have provided.